1st quarter 2014 - "Artists of the month"


January 2014 "Artist of the Month" - Jesse Coulson
Jesse's photograph of a Canada Goose on Amon G. Carter Lake won the honor for January.
Jesse has been a member of the CTAA since 2009, and is currently serving as Co-Secretary/
Treasurer for the group. In addition to photography, Jesse creates jewelry and dabbles in oil
painting. He can be reached via email at jecoulson@sbcglobal.net.

---

February 2014 "Artist of the Month" - Barbara Yerby
Barbara's photograph of an orchid taken at the Botanical Garden in Washington DC won this month's honor. Barbara is a self-taught photographer who has been a member of CTAA since 2008. She often acts as the "official photographer" for the group. A former teacher, Barbara now spends her time professionally restoring old photographs. She can be reached via email at munni76234@yahoo.com.

---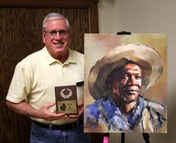 March 2014 "Artist of the Month" - Jack Milchanowski
Jack's digital painting "Boots" was "painted" on the computer from one of his own photographs. As a self-taught photographer, Jack's creative eye confirms the concept of photography as an art form. Jack speaks regularly at different club meetings on the subject of wildlife photography, and also teaches the basics of photography at the Bowie Campus of NCTC. A long time member of CTAA, Jack's work can be seen in books, calendars, magazines, encyclopedias and ads, as well as in a number of area galleries, and on his website: www.jemfoto.com.

---