2016 "Artists of the Month"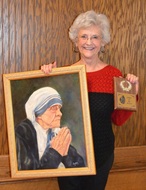 January 2016 "Artist of the Month"
Carolyn Bassham
Carolyn's oil painting of Mother Teresa, titled "God is the Friend of Silence" was the featured painting to start off the new year. Carolyn joined CTAA in 2015 after returning to Bowie to live. She loves doing oil painting and has started to also work in watercolor.
Carolyn has also recently written a children's book, "What To Do About Meribelle."
More about Carolyn can be found on her website:
http://carolynblythebassham.com/
---
April 2016 "Artists of the Month" (tie)
Cindy Westbrook and Jesse Coulson

Cindy's acrylic painting titled "Warrior's Last Ride" shows a beautiful Native American inspired horse portrait, while Jesse's photograph titled "Apricot Blossoms" shows amazing depth of field and color. Both Cindy and Jesse are long-time CTAA members. Cindy works in acrylics, watercolor, geli plate printing, and wire sculpture when she's not doing veterinary duties, and Jesse works in photography and jewelry creation, when he's not writing children's stories!

September 2016 "Artist of the Month"
Jennifer Hammer

Jennifer's CitraSolv cutbank trout "Fish Out of Water" is an unusual application of the medium of CitraSolv. Jennifer works primarily in pastels and watercolor, but has found inspiration in this unique medium. Jennifer has been a member of the CTAA since 2012 and has acted for several years as the group's Publicity Chairman. She is responsible for our wonderful newsletters!


October 2016 "Artist of the Month"
Jack Milchanowski

Jack's beautiful photo of a wolf incredibly captures a fall palette and detail. Jack is a nature photographer, and his work can be found in books and magazines from Japan, England and Spain, as well as the U.S. Jack has been a member of the CTAA since its inception, and has held several offices in addition to being the Chairman of the group's scholarship committee.