2nd, 3rd & 4th quarters 2014 - "Artists of the month"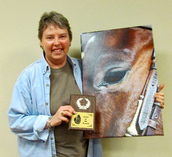 April 2014 "Artist of the Month" - Gale Cochran-Smith
Gale's photograph of a horse, titled "The Horse Knows" is one of a series of photographs taken of cowboys working cattle on a ranch east of Nocona. Gale is currently President of CTAA, and has been a member since 2007. She does photography, as well as works in watercolor and pastels. Her work can be seen on her website: www.shadowridgegraphics.com, and she can be reached via email at galecsmith@gmail.com.

---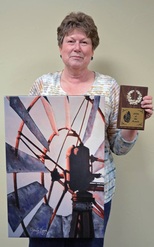 May 2014 "Artist of the Month" - Jennifer Hammer
Jennifer's pastel of a windmill, titled "Waiting on the Wind" is the first of at least two windmill paintings Jennifer has done. She is currently the Publicity Chairman of CTAA, and is responsible for the group's monthly newsletter.
Jennifer works primarily in pastels, but occasionally ventures into watercolor, collage, and gelli printing. She is a charter member of the Hearty Artist Guild in Creede, Colorado, where she spends her summers. She has been a member of CTAA since 2012. Her work has received many awards and can be found in galleries and shops in Colorado. Her work can be seen on her website:
www.jenniferhammerfineart.com
.
---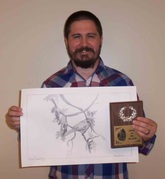 June 2014 "Artist of the Month" - Derek Sands
Derek's pencil drawing of a ruby-crowned kinglet perched in oak tree branches outside of his studio window was selected for June. Derek
specializes in oils and pencil sketches, and tries to capture a nostalgic air in his drawings and paintings, reflecting back to "the simple life," and the beauty of nature. He moved to Nocona in 2009, where he lives with his wife, Carol, and his blended family of three boys. Derek joined the CTAA in 2014. He can be reached via email at
raventoe26@yahoo.com
.
---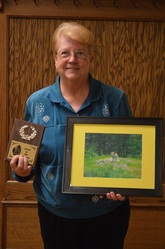 November 2014 "Artist of the Month" - Gwen Coulson


Gwen's photograph of a white tiger taken at the Orsa Bear Park in Sweden, taken from the very top of the observation tower. She saw this tiger relaxing in the sun, seemingly posing for her, in this wonderful park where animals can roam in a very natural setting.

Gwen has been a member of CTAA since 2009, and has held the office of Secretary/Treasurer for the past year. She is involved with the Bowie Alliance for Education & the Arts, supporting visual and performing arts in Montague County. She can be reached via email at gbcoulson@sbcglobal.net.

---
Photos courtesy of Jessica Ostrow, Jennifer Hammer & Gale Cochran-Smith