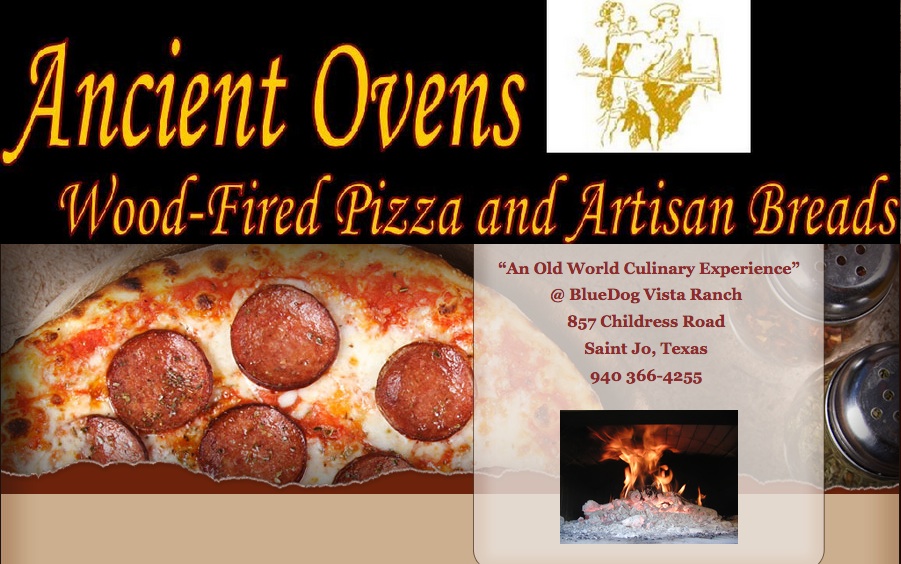 RSVP REQUIRED: Contact Gale Smith (940-872-2517 or 817-832-6991)

no later than June 1st to ensure your reservation (which is required)
!!
COST: $23 per person for the fixed price meal. That includes the sales tax and gratuity.
(You pay CTAA - we will write Ancient Ovens a single check for all of us)
DATE: Thursday, June 11th
TIME: CTAA Members can arrive anytime after 6:30pm to paint, photograph, or just to visit.
Plan on arriving no later than 7:45 so you don't miss out on the food!
For more information about Ancient Ovens: www.ancientovens.com
MENU:


DIRECTIONS:


From Bowie: Take Hwy 59 north to Montague. At the Courthouse, turn right to continue on Hwy 59 to Saint Jo.
Turn right on Hwy 82 to arrive in Saint Jo.

From Nocona: Take Hwy 82 east to Saint Jo.

At the Saint Jo town square, turn left on Hwy 677 and go approximately 5.5 miles north towards Capps Corner. Turn right on Childress Road and go 3/4 mile to 857 Childress - on the right (Big Black Mail Box with Ancient Ovens sign and cattle guard). Go 1/4 mile to the parking area. "Look out for horses, heelers and cats."