johnny bone - may 2015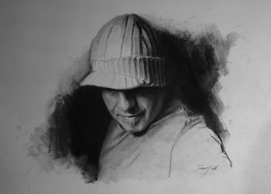 After moving to Nashville in the pursuit of a music career, Johnny Bone discovered a love of art while walking through a valley of depression in the winter of 2005. In that cold month of January, he picked up a pencil and made an attempt at drawing a friend from a photograph. Through that experience he found a great passion for art. His music career took off when in 2008 he signed a three album production deal through Pure Blue Records, distributed nationally through Word Entertainment and Warner Music. In 2009 he completed his fourth year in study in portraiture and still life at Southgate Studio of Fine Arts in Franklin, Tennessee. Johnny has since decided to move back to the small town of Marietta, Oklahoma, pursuing art and studying film making.

---
This meeting is a FIELD TRIP and will be held on the outdoor patio / courtyard of the Martus Bookstore and JahveHaus Coffee Shop in Saint Jo (106 S. Broad St - Hwy 82 across from the Square). Phone: (940) 783-5544.

---
Copyright © Johnny Bone