Judy Braddy - March 2015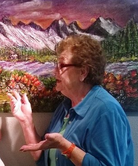 Judy Braddy is an Adjunct Professor at MidWestern State University in Wichita Falls and teaches art. She obtained a Masters degree in Speech Communications with an emphasis on Theatre from Wichita State University in Wichita, Kansas. A woman of many talents, she teaches social dancing, water aerobics, and acrylic painting - even painting one of Wichita's famous landmarks, a horse called "Flowers of the Falls" located at the City Bank building in downtown.

Judy has done extensive research on the lost art of 1930s and World War II, as well as the famous Monument Men who saved much of it. Her lecture and presentation will be in PowerPoint format.

---