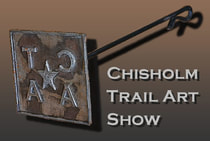 1st Annual Chisholm Trail Art Show & Sale
July 1, 2017 through August 15, 2017
at
Tales 'N' Trails Museum
1522 E. Highway 82
Nocona, Texas 76255
---
The Chisholm Trail Art Association in conjunction with Tales 'N' Trails Museum proudly sponsor the 1st Annual Chisholm Trail Western Art Show & Sale. This juried art show kicked off this year, the 150th Anniversary of the famous Chisholm Trail. The judge for our show was noted Texas Artist, Randy Meador. The show will run through August 15th. Winning entries are as follows. People's Choice Award will be announced on August 15th.

Best of Show
Jennifer Hammer
"Heart of the Trail"


First Place Other Media
Cathy Mounce
"Cowboy Moon"


2nd Place Painting (tie)
Cynthia Westbrook
"Almost to Red River"


First Place Painting
Robert Penny
"Sunlit Splendor"


2nd Place Photography/Digital Art
Jack Milchanowski
"Break Time"


First Place Drawing
Bill Whitely
"The Texian"


First Place Sculpture
John Guest
"Mr. MacGregor"


2nd Place Painting (tie)
Doug Prine
"Pardners"


First Place Photography
Pamela Steege
"Trail Boss"


3rd Place Painting
Don MacLaughlin
"Showdown"